Rob Donovan (2016), 'The Road to Corbyn', Troubador/Matador is a book that has its own life and identity, separate from the political fortunes of the politician whose name I chose to include in the new title when renaming the book in early 2016. I had previously called my reworking of John Bunyan's 'The Pilgrim's Progress': 'Deception' - less daring yet an accurate description of its narrative. The new title was a hostage to the gods of political fortune. But I have always been and remain an optimist.
I am proud of how 'The Road to Corbyn' has been received by those who have read my political analysis in my chosen format - a 21st century secular reworking of Bunyan's 17th century tale of a pilgrim seeking answers to the question of the day: Why is there so much suffering?
The joy of being a success as an author comes when you read the words of an unknown critic who having read your work finds it worthy.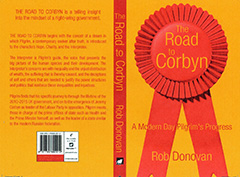 Here's Ashley Perks, writing online in his 'The Platform':
'The Road To Corbyn is more than a pastiche of Pilgrim's Progress, however. If you can get past the allegorical characters and concentrate on what the Interpreter (Donovan, obviously) explains, you get a broad picture of the Left in particular, and the renewed appeal of socialism among Labour supporters. There is also much about the nature of democracy and its alleged abuses by the Right, as well as an offer of alternatives to austerity, market forces and the monetising of healthcare, among other references.
Corbyn's rise, according to Donovan, was inevitable. Inevitable, too, the concerted effort of the Right, bolstered by a largely sympathetic majority of the (capitalist-owned) media, to trash him.
"Jeremy Corbyn is a man who has consistently seen the world as a fundamentally good place filled with people who are shamefully let down by an elite who are half-crazed by power and wealth," the Interpreter claims – and this impression is what has clearly galvanised not only the Left, but an increasing number of ordinary men and women who believe that real, practical socialism is finally within reach.
If you believe in socialism, then, Donovan is preaching to the converted, and if you are a sympathetic doubter, you might just be persuaded.'
And here are the words of a Penzance literary figure and performer, Linda Camidge, again unknown to me before I read these unsolicited thoughts on Facebook in 2017:
'It is a really interesting and unusual book. A Robert Tressell for our times. There are few higher compliments as far as I'm concerned.'
I replied: 'I'm so delighted – I have just finished reading Robert Noonan aka Tressell … to be compared with the author of "The Ragged Trousered Philanthropists" is awesome. Thank you.'
Reading a copy of my first book is still very much a worthwhile experience. Here is the link for buying a copy of 'The Road to Corbyn' directly from me for £9.99, inclusive of postage and packing.